Im A Drummer Jamming With Almost Anyone Playing Almost Anything Lately (Been Teaching My Wife Lisa How To Play Bass and Drums And She Rocks!) Ive Been Drumming Since I Was 9 ive been playing Guitar since i was 13. im 31 now. Ive Been Playing Bass For About 14 years Now, Studying Cliff Burtons Style Really Closely. And, Anything That Catches My Ear.

My Gear Includes. Westbury 9 Piece Kit (Pearl Snare) CYMBALS (Sabian Crash 19" -Sabian Splash 9" -Zildjian Crash 18" -Cantar Crash/Ride 17" -Paiste 16" -Constantinople by Paiste 16" Crash -Paiste ride 20" -Paiste Crash 14" Crash 12" -Paiste Hi-Hat Cymbals -Cantar Hi-Hit Cymbals) Some Remo Hardware, STANDS (Sabian, Zildjian, Dixon, Tama, prodigy,) Westbury Bass Pedal, Remo Weatherking Skins -Vic Firth 5A 5B Sticks.

Gibson Epiphone G-310 Guitar.

Gibson Epiphone Les Paul standard plus top (Cherry Burst) http://www.epiphone.com/default.asp?ProductID=45&CollectionID=6

Jackson Randy Rhoads JS30RR

Gibson Epiphone SG(Lookalike, Awesome Vintage Guitar)

Ibanez Soundgear800 4 String Bass Guitar.

Ibanez flying V gibson lawsuit guitar with no serial number!

Vintage sierra 60s model bass guitar

Gallien Krueger Bass Guitar(GK)

Sovereign 6 String Acoustic Guitar

Yamaha 6 String Classical Guitar

Ibanez Thrash Metal Distortion Pedal

Dan Electro Dan-O-Wah Pedal

ZoomII Multi Effects Pedal

Casiotone Volume Pedal

Casiotone Sustain Pedal

Ross 50 Watt Bass Amp

Marshall 12 Watt Guitar Amp(vintage)

Peavey Rage 15 Watt Guitar Amp

Rockman By Tom Scholtz

Dunlop .73 .88 Tortex Picks.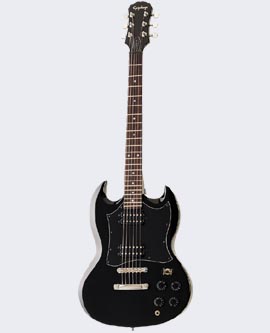 G-310

Pickups 2 Open Coil Humbuckers

Hardware Chrome

Scale 24.75"

Nut Width 1.68"

Neck Joint Bolt

Neck Material Mahogany

Fingerboard Rosewood/Dot

Binding None

Body Material Alder

Finishes Black