April 2009: Metallica was inducted into the Rock n Roll Hall Of Fame. Nothing else needs to be said. RIGHT ON GUYS! Flea from the Red Hot Chili Peppers called Cliff A bass God. saying that he rules!
Black Sabbath was inducted into the Rock N Roll Hall of Fame on March 14th 2006. Geezer Butler in his Acceptance Speech Dedicated his Induction to Cliff Burton and Dimebag Darrell!! HELL YEAH! WEBMASTER NOTE-Jan.08 -HELL YEAH, writing that on march 14th 2006.Ironic isn't it? Vinnie Paul named his next band that.!
The April 2006 Guitar World BASS GUITAR Magazine has Cliff on the cover! HELL YEAH! All my emails and voice mails paid off!!! I told em to run a cover story on Cliff! He doesnt get as much respect as he deserves!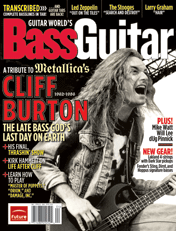 ---
I picked up the march 05 issue of bass player magazine and cliffs on the cover and theres an interview with former megadeth bassist dave ellefson in it. really cool. i also picked up a foreign magazine from the same month from some foreign country with james hetfield on the cover and the whole thing is about cliffs death and shows some really rare pictures it also has his last interview with no edits.... its nice but sad considering he died a few hours later..... RIP Cliff
---


In the September 2004 issue of "Sweden rock magazine" (you will find the last interview Cliff ever did, 14 hours before he died in Sweden in 1986. The article, written in Swedish, covers 13 pages including the complete interview, all the details from the last day Cliff lived as well as unpublished photos from this day, including the bus after the accident. Below Are some quotes from the magazine. I remember a magazine a couple of years ago selling on ebay with this interview but it went for a fortune. I fortunately have a picture from cliffs last show.

"One of my dreams is to get my own house. Right now I live with my parents, but as I am on tour I am never actually at home. One day maybe, if I get the money I will buy my own house."

"We should make more money now, yes, ha ha. We get a little more now. We are waiting for the money from the album sales, but touring has been more fun now as we have a better bus."

Arrons Note: "kind of sad, considering the bus killed him :(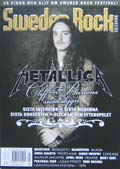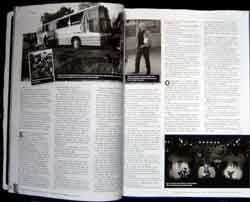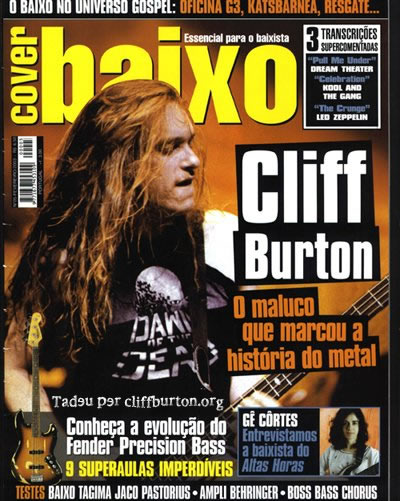 Im not sure what magazine this is from or what the language is, but it looks fairly new, prooves that cliffs still the man!
---
Im Guessing a Chinese magazine from january 2001. pretty cool.
---
Cliff was mentioned in the German Metal magazine Hammerfall Oct 2002. theres a pull out poster of him, proof that cliff still rules. heres a pic of the mag.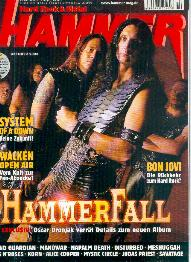 ---
And of course the legendary magazines with interviews with Cliff and his parents.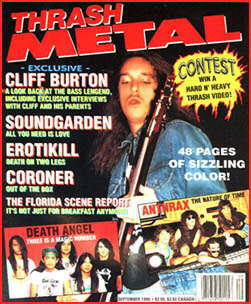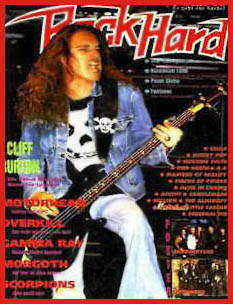 ---
This Article Is From bassplayer.com. A Section That Was Titled 'A Short History Of 20th Century Bass'. It Has Cliff Listed As one Of The Rock Monsters Of The 80s. Here It Is.
The '80s
--------------------------------------------------------------------------------
Scenes & Players
Rock monsters:
Billy Sheehan, Geddy Lee, Stuart Hamm, Darryl Jenifer (Bad Brains), Cliff Burton (Metallica)
New wave & ska revival: John Taylor (Duran Duran), Horace Panter (Specials), Mark Bedford (Madness), Dave Steel (English Beat)
International heavies: Tony Levin, Pino Palladino, Doug Wimbish, Darryl Jones, Bakithi Kumalo, Mick Karn, Carles Benavent
Fusion freaks: John Patitucci, Marcus Miller, Jeff Berlin, Victor Bailey, Mark Egan, Jimmy Haslip, Tim Landers
Latin & Latin jazz: Oscar Cartaya, Ruben Rodriguez, Oscar Stagnaro, Lincoln Goines L.A. studio fray: Abe Laboriel, Nathan East, Neil Stubenhaus, Bob Glaub
Nashville rock/soul connection: Michael Rhodes, David Hungate, Willie Weeks, Mike Chapman, Bob Wray, Emory Gordy
New post-bop jazz: Patitucci, Steve Rodby, Marc Johnson, Harvie Swartz, Avery Sharpe
---
Webpoll from http://mywebcharts.com/bestbassists.html
1 Cliff Burton Metallica 1457
2 Steve Harris Iron Maiden 961
3 Jason Newsted Metallica 943
4 Les Claypool Primus 905
5 Mike "Flea" Balzary RHCP 763
6 Geezer Butler Black Sabbath 565
7 Paulo Pinto Sepultura 524
8 Rex Brown Pantera 414
9 Gene Simmons KISS 413
10 Geddy Lee Rush 377
414 participants from 48 countries voted:
---
best bassist poll from rathole.com
1. Steve Harris
2. Nikki Sixx
3. Dick Dunham
4. Cliff Burton
5. Mike Duda